There's something magical about dreaming up an enchanted garden full of tiny fairies, isn't there? Little girl's of all ages love fairies, which make an Enchanted Fairy Garden a perfect theme for a birthday party! When my daughter turned six, her biggest dream was to invite her girlfriends over to make fairy houses, so I threw together a simple and fun Fairy Birthday Party any girl would love! Grab your favorite beverage and join me as we take a look…
There's something so sweet and special about hosting a small, intimate birthday party at home for your child. Taking the time to plan, bake and create a whimsical world for your littles is truly an act of love! Looking back on this party, I'm filled with the fondest memories of a fabulous afternoon celebrating my darling little girl! This Fairy Birthday Party is full of easy DIY ideas you can recreate at home.
Enchanted Fairy Garden Entryway
One of my favorite memories from childhood is the special entryways my mom created to welcome guests to my birthday parties. It's one of the family traditions we've tried our best to keep, so for this party, my husband helped create an enchanted forest to walk through to enter the party. It's such a fun way to set the tone for what's to come! We used balloons to create the top of the trees and hung a floral garland over the doorway, since you know… fairies love flowers!
Fairy Birthday Cake and Food
We hosted our party in the afternoon, so I focused on desserts and snacks rather than a full meal. The feature of the dessert table was this beautiful, butterfly covered birthday cake! It was so easy to make and frost, but to really make it a show stopper, I covered it in flowers and edible butterflies! The girls at the party just loved it and were thrilled to "eat" a butterfly too!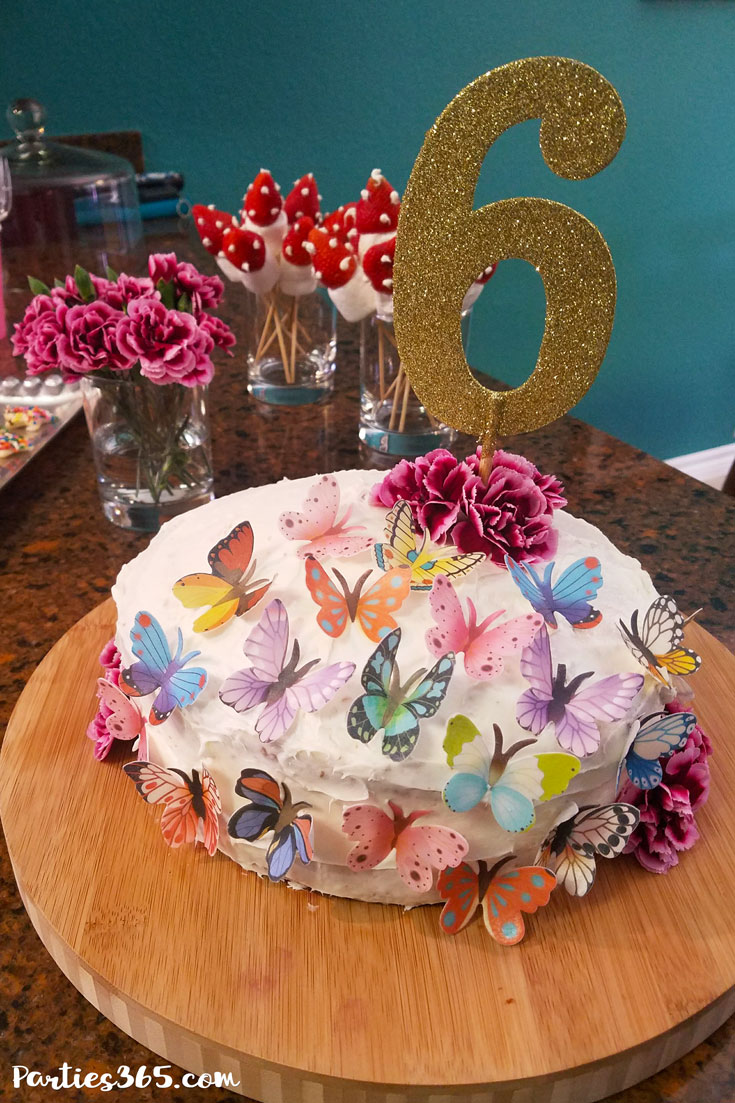 In addition to the cake, I also served strawberry toadstools (marshmallows on a skewer with a strawberry dotted with icing) and star shaped fairy bread (white bread, butter and sprinkles).
Enchanted Fairy House Activity
The main activity at the party for the girls was to make their own fairy house. I set up a table outside with a round base pre-filled with potting soil so the stations were ready to go. I had also prepped the bases of the fairy houses (painted toilet paper roles with doors cut) and the cone roofs made of felt in advance.
On the table I put treasures like glass marbles, purple and pink rice, smooth stones, colorful buttons and had a collection of tiny fairy house goodies like mushrooms, animals, flowers and butterflies. We even had tiny fences, benches and lanterns too. The girls were able to mix and match and assemble their fairy house to perfection.
Enchanted Fairy Party Favors
In addition to their custom made fairy houses, the girls grabbed some fairy wings, crowns and wands as party favors too. Most of them grabbed these on the way in the door and wore them throughout the party. It's always fun to have a dozen pretty little fairies running around your house!
Overall, this party was a huge hit with my daughter and her friends! It's a great reminder that simple is fine – even appreciated – and we don't always have to go over the top to throw a memorable, fabulous party!
I hope you pulled some inspiration for the next party you're throwing -be sure to Pin this post for later party planning too!