When my daughter asked for a Mermaid Birthday Party for her 8th birthday, I hesitated because her birthday is smack dab in the middle of freezing cold January. The season doesn't exactly bring to mind images of beautiful mermaids sunning themselves and splashing around in the water. However, she was determined and who doesn't love mermaids, so I agreed! Join me as I walk you through the easy, DIY Mermaid Party I threw together for her and gather inspiration for how you can do the same!
A Mermaid Birthday Party is a great idea for a girl's birthday, baby shower, bridal shower or a summer playdate! And as you'll see here, you don't even need a pool or warm weather to throw a party your girls will love – mermaids really are enough on their own!
Mermaid Party Decorations
If you're planning a mermaid party, the first place to start with decorations is with a color palette. You can do bright pinks and purples, vibrant greens and teals, or a mix of your daughter's favorites. I opted for teals with pops of pink and purple, because at our house, it wouldn't be a party if there wasn't pink and purple (at least according to my 8-year old)!
I like to begin my decorations as soon as guests arrive at the door so we started with a giant fishing net hanging across the entry way filled with pink, green and white balloons. I used thumbtacks to attach the fishing net to the ceiling and draped it so there would be different pockets for balloons and so it would fit under our chandelier.
I dressed it up a little bit with some shimmering turquoise strands of beads I had leftover from several Christmases ago and added a few hanging rubber worms from my son's fishing kit. A little creativity goes a long way when you improvise with what you have laying around at home! Everyone "oohed" and "ahhed" as soon as they walked in the door and it set that "under the sea" feeling I was going for easily.
Next, I hung a "Happy Birthday" Mermaid Banner on the mantle because you always need a birthday banner! I found this adorable one at Target with matching seashell plates, straws and napkins you'll see in a minute.
We found this cute picture of a mermaid online and we printed it in a large size and attached it to a piece of cardboard to hang on the wall later when we played "Pin the Fin on the Mermaid."
One thing I've found to be true about home birthday parties is that a few key pieces of decor is all you really need. It sets the tone for the theme of the party and honestly, the kids don't care and won't remember much 5 or 10 years down the road, so don't stress yourself out about going over the top with decorations.
Mermaid Party Food & Drinks
I think coming up with ideas for fun party food and drinks is one of my favorite things about hosting any party! And this Mermaid Birthday Party was no exception! I was really excited to try out a new technique for the cake, turning buttercream into mermaid scales! Honestly, the process was pretty easy, but the result was stunning, don't you think?!
I divided my buttercream into four bowls and used a turquoise gel food coloring to create the ombre shades. Then I put each one in a piping bag with a #12 piping tip and followed the instructions in this blog post to create the scales.
I decorated the cake with buttercream pink and purple seashells that I made using a silicone mold. I filled the seashells with frosting and then popped them in the freezer to harden up. It worked pretty well for the shells, but didn't work for more delicate things like the mermaid tail. So for those, I used candy melts in the mermaid tail silicone molds and those came out really beautifully!
And surprise! Inside I did 3 layers, again with the ombre… I may have a problem. I started with a strawberry cake box cake mix (so I didn't have to color one of the layers) and then just added more pink and some purple food coloring to the other two layers before baking them in three 6″ round cake pans.
We had a mid-afternoon party, so I didn't have to go crazy creating food, but I did make a few other fun, mermaid-themed snacks like "fish egg" grapes and these adorable Nilla Wafer clams and oysters, which were a huge hit (and super delicious)! I just used left over buttercream frosting and piped a little onto a Nilla Wafer, then set a second cookie on top at a slight angle to push the icing towards the front. Finally, I added a mix of candy eyes or pretty pearls – super easy!
Finally, I made some "Ocean Water Punch" for the girls to drink, which was just sprite mixed with blue raspberry kool-aid.
Mermaid Party Activities
So what exactly do you do at a Mermaid Party when it's winter outside? You decorate monogramed letters with sea shells! As guests RSVP'd for the party I asked for their favorite color and then painted a cardboard letter for their first name initial in that color. I chose to paint the letters ahead of time so that they'd be dry and ready to decorate (and honestly, to avoid some of the mess!).
Next, at each place I set out their letter, along with a cup full of seashells, teal flat glass marbles and big white sand dollars I got at Hobby Lobby. I also found some great mermaid stickers at Hobby Lobby and got several sheets of those for the girls and threw out some sequins I found in my craft bins too.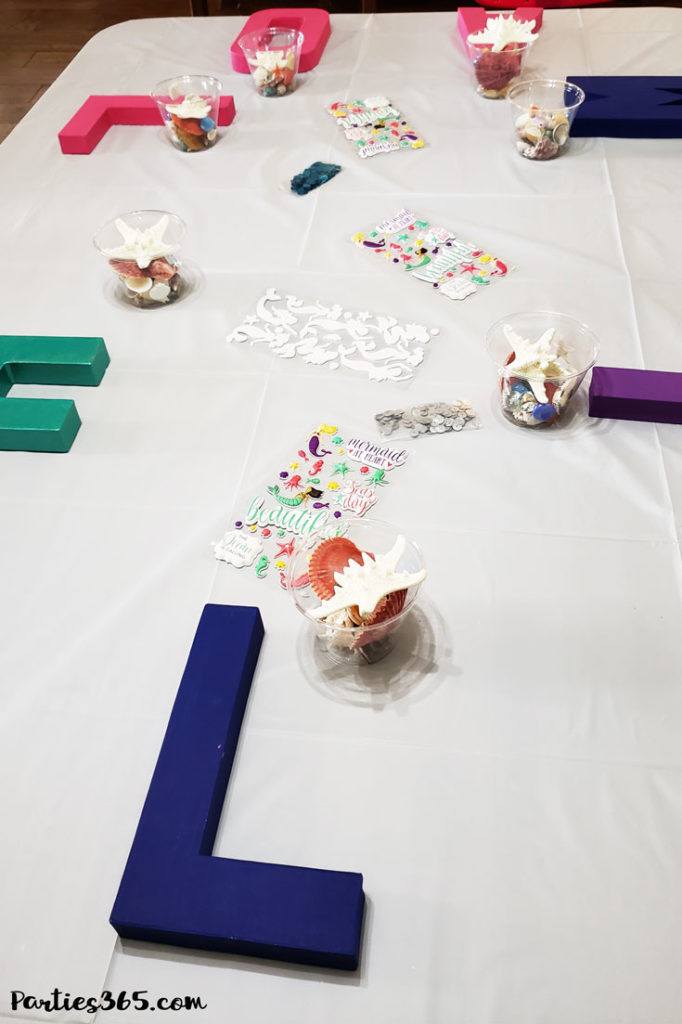 Everyone had fun laying out shells and figuring out a design for their letters. Once they had the shells and glass pieces where they wanted them, my sister-in-law and I grabbed a hot glue gun and glued everything into place for them.
The final letters turned out great and doubled as favors for the guests to take home!
After some playtime and opening presents, the guests returned to our party table and decorated sugar cookies as their final activity. I baked the cookies the day before and used this mermaid themed cookie cutter set so each child got a shell, mermaid tail, seahorse and sea star to decorate. I set out different colors of icing and lots of options for sprinkles and let them have at it!
When they were done, we placed them inside clear favor bags and tied them up so they could take these home as favors too. Don't you just love it when an activity can double as a party favor?! I know I do!
Our final activity was "Pin the Fin" on the Mermaid! We used the mermaid we printed out that you saw earlier and hung it on the wall in the entry way where they'd have enough space to spin around. The girls had to spin around with an eye mask on and then try to match up the mermaid's tail fin. It was silly and fun and they had a blast taking turns and spinning each other around.
All in all we had a really fun Mermaid Birthday Party even though it was winter and we created memories that will last for years to come! Hopefully this party is a good reminder that the season doesn't have to hold you back! There's always a way to make the party theme you want work with what you have!