One of the best ways to celebrate family is by carrying on traditions that have been passed down through generations. In the Filipino culture, a significant milestone in a young woman's life is her 18th birthday. A big celebration is thrown – her debut – and it's considered her "coming of age" party. Join me as we pull inspiration from Ayessa's lovely 18th birthday party!
Ayessa's older sister, Annie, was the kind-hearted event planner who oversaw all the details for her sister's 18th birthday party. From the beautiful watercolor inspired invitations, programs and menu cards (find a similar set here) to the vibrant purple and pink decorations at the venue, Annie poured her love for her sister into every element of the party.
The celebration was held at Destiny Banquet Hall in Ontario and family members worked together to create a stunning pink, purple and blue balloon arch, paper flower wall, tall floral centerpieces surrounded by matching tissue paper flowers on the tables and set the lighting in the room to the perfect shade of purple.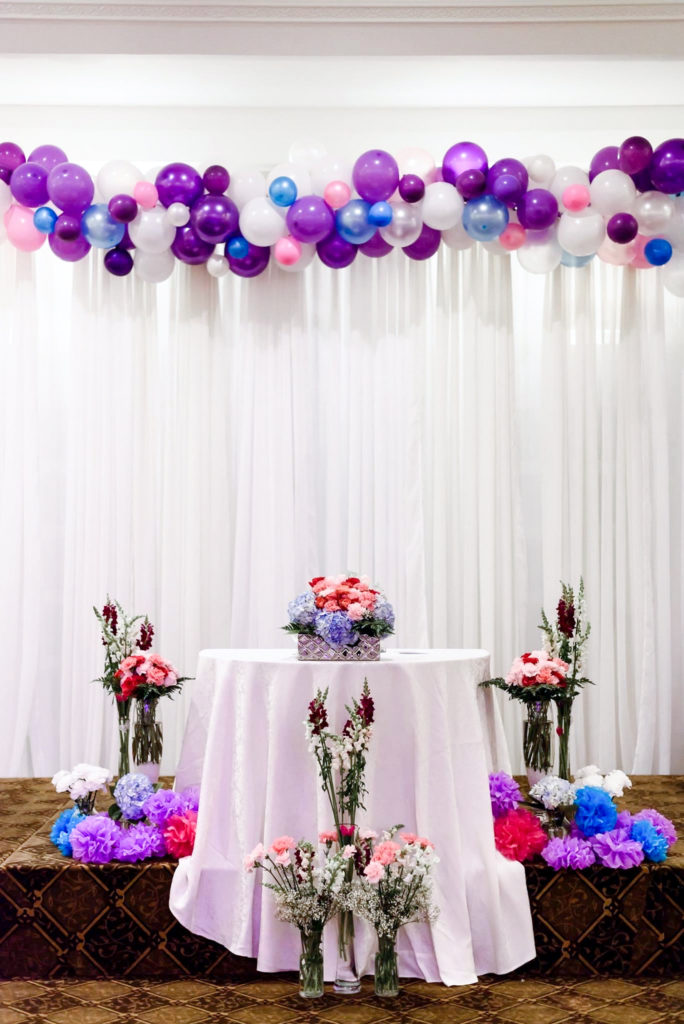 Ayessa's birthday cake was decorated with purple orchids, the perfect compliment to the evening's decor. And guests were treated to custom made fabric backpacks in abstract patterns as party favors.
The birthday girl looked gorgeous in two custom made dresses she wore for her party. The first dress, a lovely lavender gown covered in flowers showcased a more traditional look and was worn during a special celebration with Ayessa's friends – 18 women and 18 men. Her girlfriends and relatives, all dressed in white, participated in a candle ceremony where they presented her with a candle while sharing a special memory with her.
Continuing the theme of eighteen, Ayessa's uncle performed a song for her guests while 17 males of the debutante's choice presented her with either a single rose or her favorite flower and then shared a danced with her. The 18th flower was presented to Ayessa by her father who had the final dance.
After the ceremonies, Ayessa changed into her second dress which was a vibrant fuchsia colored gown with a lace covered top. Guests enjoyed more dancing throughout the evening and at the close of the party, Ayessa surprised all of her guests with a perfectly choreographed dance to a Beyonce song, which ended with all of her guests joining on her on the dance floor.
Overall, Ayessa, her family and her guests had a wonderful time celebrating her debut at her 18th Birthday Party! I hope you were able to pull some decor or other celebration inspiration from this unique party. Be sure to pin this post to your Party Planning board!
Featured Vendors