Your little one is growing up so fast and now it's time to plan a big 2nd Birthday Party! If you haven't landed on the right party theme yet, you are in the right place! We've done the research for you and have discovered 8 totally awesome Second Birthday Party Themes! One of these will knock it out of the park for your little girl or little boy's birthday and we have tons of inspiration for desserts, birthday outfits, party decorations, invitations, balloons and more!
The Best Themes for a 2nd Birthday Party
We have a really popular post on the blog highlighting 17 First Birthday Party Ideas for Boys and that got me thinking that there are a lot of other important birthday years we should cover (plus, we have tons of ideas for girls too)! And so viola! Here's the first installment of several to come to help you brainstorm ideas for the important milestones your kiddos are reaching!
I love party themes that play on the age the child is turning, like the "Dino-Four" party we threw for my son last year. So I dove deep into Pinterest, Etsy and Instagram to find the cutest, most pun-worthy, second birthday party themes I could find! You're sure to find the perfect theme for your child's next celebration right here. Take a look…
1. Taco Two-sday Fiesta
I'm the type of person who believes that tacos are their own food group and would be great at breakfast, lunch or dinner almost every day of the week, so a taco-themed party for any occasion gets a big thumbs up from me! A fiesta lends itself to so many food and decor options and can easily work for a girl or a boy. How cute is the Taco Twosday Party banner above? And I adore this invitation I found on Etsy… "No Time to Siesta, It's Time to Fiesta!"
In addition to decorating with sombreros, cactus and brightly colored flowers, you could add these taco themed balloons to the mix…
These cookies by Lauren's Cookie Boutique are full of inspiration for sweet treats, decorations and party colors. OMG… that taco cookie is to die for!!
2. Two Sweet
If you or your little one has a sweet tooth, a Two Sweet party is the perfect theme! Choose your sweets based on your child's favorites… you could go with candy, ice cream, donuts, cake or cookies! The donut balloon set above is absolutely darling and would look great above a dessert table!
If you decide to go with an ice cream theme, these adorable ice cream painted mason jars will make the perfect tabletop decor! How cute will those be as centerpieces all the way down your party table?!
I love this set of bright colorful lollipop balloons too! You could use these all around your party or string them together as a giant candy balloon banner! And for a little sweet treat inspiration for this party theme, check out these darling cookies by yumecookies!
3. Two Infinity and Beyond
With the release of Toy Story 4, this is bound to be a popular 2nd birthday party theme for the foreseeable future! Buzz Lightyear's famous saying is sure to capture the hearts of little ones and adults alike!
This outer space inspired invitation we found on Etsy is the perfect starting place for building out this theme! Add in some Toy Story balloons with all the characters and you're well on your way to a great party!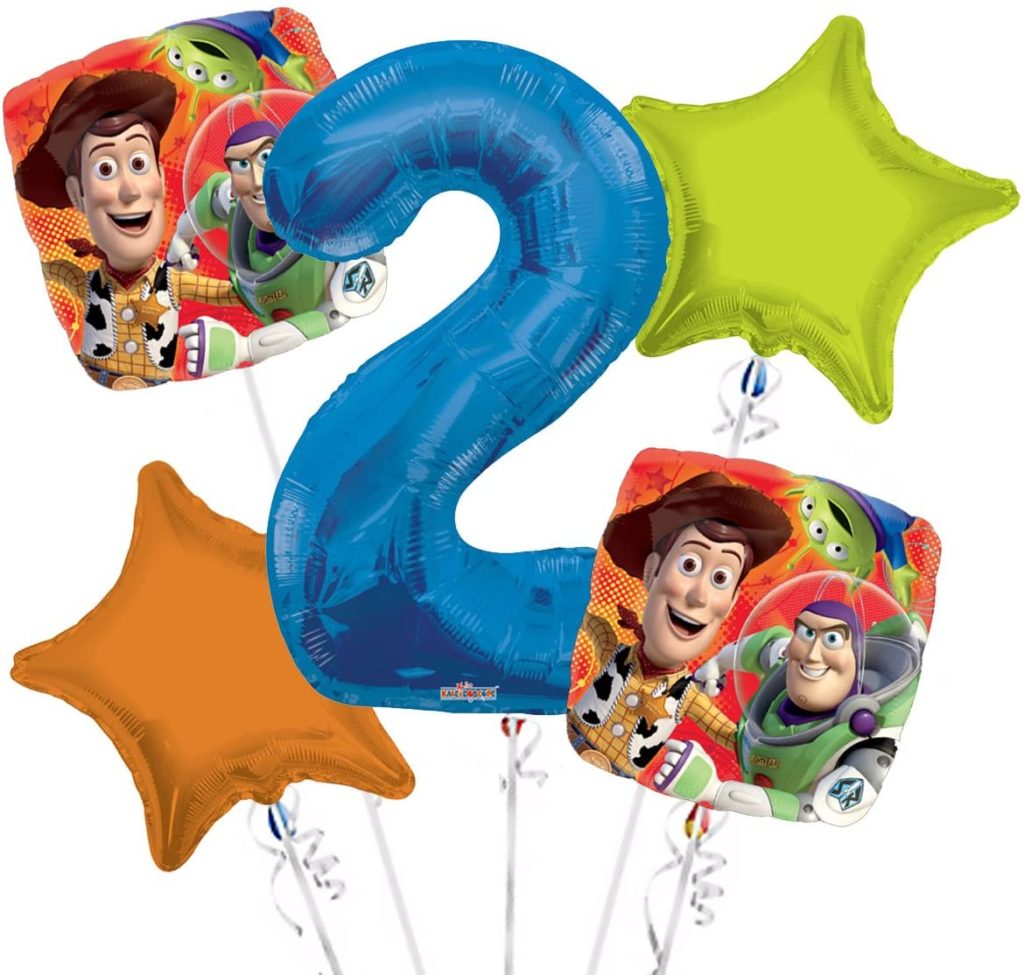 And check out this amazingly styled dessert table AmyCakesandSweetTreats shared of this Two Infinity and Beyond party! We love the balloons and pennant banners… and oh my goodness – look at all those sweets!
4. Two-tti Fruity… What a Cutie
This colorful and playful fruit-themed party is definitely more of a fit for little girls, but I love all of the decoration options it inspires. This invitation just sets the stage for a fun-filled party, don't you think?
If you're the kind of person who goes all out (and why not?!), you'll love this matching customizable party shirt we found! The colors and fruit print in the font on this shirt is just perfect!
And for coordinated party decorations and tableware, look no further than Big Dot of Happiness's line of Two-tti Fruity decor!
Finally, for your sweet treat inspiration, look no further than these amazing fruity cookies from Busy Bee Cakery!
5. Two the Moon
Two the Moon is a fun celestial themed birthday party that works for boys or girls! You can take a moon and stars approach, an "I Love You TWO the Moon" approach or make it more astronaut and outer space focused.
This gold glitter "two the moon" cake topper is an easy and beautiful way to dress up your cake. Or you could opt for some really cool galaxy cookies like these that Lulu's Custom Cookies designed…
I also came across this lovely Astronaut Banner on Etsy and think you could build a really beautiful party with this as your core inspiration!
6. With an Oink and a Moo and a Cock-a-Doodle-Doo, I'm Turning Two!
Another versatile party theme, this farmhouse saying works well for little boys and girls! I love this watercolor style invitation with the barn and animals!
And let me tell you, Etsy has some super cute shirts to go along with this theme… we found this one with a cow, perfect for boys and another one with a farm animals and flowers, ideal for all the little girls!
There are so many ways you can take the decor with this theme, but I did come across these farm animal air walker balloons and think they'd be a huge hit to have floating around the party!
7. Two Wild 
Two Wild or a Born Two Be Wild theme for a two-year old is so appropriate, isn't it? We saw a few different ways you can take this party theme and both are really cute! The first option is to do a safari or jungle themed Two Wild party. We love the safari style invitation and cookies we came across…
Alternatively, you could give this theme a bohemian feel and capture that "wild and free" spirit every two year old possesses! For example, you could pull your colors and design inspiration from these Boho Napkins…
8. Two-nado Party
If you're a Mom, I'm sure you've said it… "It looks like a tornado in here!" That's right, your sweet little two-year old is to thank for all the messes in your life! Why not celebrate the mess with a Two-nado themed party?! And what better way to dress for the event than with these amazingly perfect Mommy and Me t-shirts?
You could decorate the party with gray and black balloons, cloud balloons or pillows and hang raindrops from the ceiling. I can even envision a tornado cake that leaves lego bricks and tiny toy cars in it's wake! You could add this Two-nado Cake Topper too. Or how about some cute tornado cookies?
Surviving the early years with little ones is hard! That's why it's important to make the milestones matter and throw fun parties along the way! I hope you found the perfect theme for your child's 2nd Birthday Party! Be sure to Pin this post for later party planning and grab our Party Planning Checklist so you can stay on top of all the details!