Inspired by the "Best 9" craze on Instagram (did you see ours here?), I thought I'd dive into our analytics and share our Best 9 Posts of 2019 with you today! It's fun to look back and see what everyone loved over the last year. It's a great mix of party inspiration, milestone celebrations and party supply ideas and I can't wait to create a whole new year's worth of content to inspire all of your 2020 celebrations! Take a look back with me at the most popular posts of 2019…
Parties365 Best 9 Party Posts of 2019
I'm so excited that this post was by far the most popular on the blog last year! It's all about creating special moments and traditions to make our sweet kiddos feel special and treasured on their big day. It's a must-read if you want to do something extra special for your littles this year!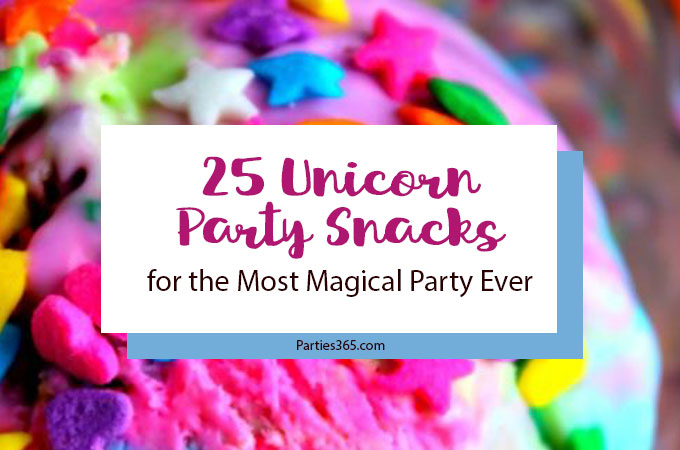 Proof yet again that everyone loves unicorns! And what's better than unicorns? Unicorn party food of course!
I'm a grown up girl that loves a spa day, so I can appreciate that you all are throwing your little girls spa birthday parties too! My daughter enjoyed a spa birthday party a few years ago and this post has some great ideas for party decorations and supplies!
My friends and I were just talking about how fabulous Mary Poppins Returns was! The whimsical story of this magical nanny has been appreciated for generations and makes for a fabulous party theme!
If there's ever a time for a photoshoot, it's a milestone birthday! Our friend and makeup artist Kim Baker shared the stunningly beautiful photos from her 30th Birthday Photoshoot along with some tips for making the most of your next shoot.
I have to be honest, I was surprised to see this in the list of our top nine posts. Don't get me wrong, it's a gorgeous party that celebrates Kayla's graduation and 18th birthday. It just has such a different focus from the other posts in the Best 9. I think it's proof that rose gold may never go out of style!
This is one of my favorite 1st Birthday Party themes! It lends itself to so many decor options and this lovely party captured the whimsical storybook elements perfectly!
Thankfully we had at least one boy themed party in the mix! I know from having a young son myself that dinosaurs are everything, so of course, the Jurassic World Party post is the one that made the list! If you're throwing a dinosaur themed party soon, this post has everything you need!
Last but not least, a DIY post that works for every party! Balloon arches can be totally customized for any event and look gorgeous at your entryway, behind the dessert table, down the table as a centerpiece or as decor hanging from the ceiling! This post will have you party-ready in no time!
My Personal Top 3 Favorite Recipes
I also wanted to throw in a few of my personal favorites from 2019, so I'm starting with a few of my favorite recipes…
I loved making these adorable little mini cakes and was so pleased with how they turned out! Perfect for a rainbow, unicorn or St. Patrick's Day party, put these on your list to try in 2020!

Speaking of St. Patrick's Day, these playful cocktails have actual gold in them! Such a fun way to dress up a drink for a special occasion!
My girlfriends and I enjoyed these popsicles all summer long as we lounged by the pool! These are the perfect summer treat for all you wine lovers out there!
My Personal Top 3 Favorite Parties
This was no easy task… picking my three favorite parties from 2019! We're honored to partner with the most amazing group of vendors – from photographers to event planners to equipment rental companies and bakeries! They let us share their beautiful work to inspire you all year long. Here are a few of my personal faves from the past year…
Honestly, I love everything about this party because, well… brunch! It's my favorite meal and the Belgian waffle cake at this engagement brunch is what dreams are made of!
This lovely backyard surprise party for a 40th birthday celebration was stunningly beautiful. The Moroccan inspired cuisine and decor was spot on and the whole party is incredibly inviting. Set your 2020 summer entertaining goals right here!
"Let the Adventure Begin" is a fabulous baby shower theme for brand new parents and this shower, held in an actual airplane hanger stunned us at every turn! The themed decor, food, favors and signs were spot on and it had us wishing we had been guests at the party! If you or someone you know is expecting soon, check out this shower for inspiration!
—
Wow! Thank you for a fabulous 2019 and I'm so excited to have you on this journey with me in 2020 too! Will you leave me a comment and let me know what big celebrations and parties your planning in 2020? Cheers to a fabulous year!