It was a Saturday morning and we had absolutely nothing planned that day. It's quite possible a normal person would have been relieved, but nope, not me. The first thing I say is 'Let's throw a movie night party for the teens!'. Being the awesome husband he is, Todd said 'Sure, why not.' So we threw together, very last minute, a fun night for our kids and some of their friends.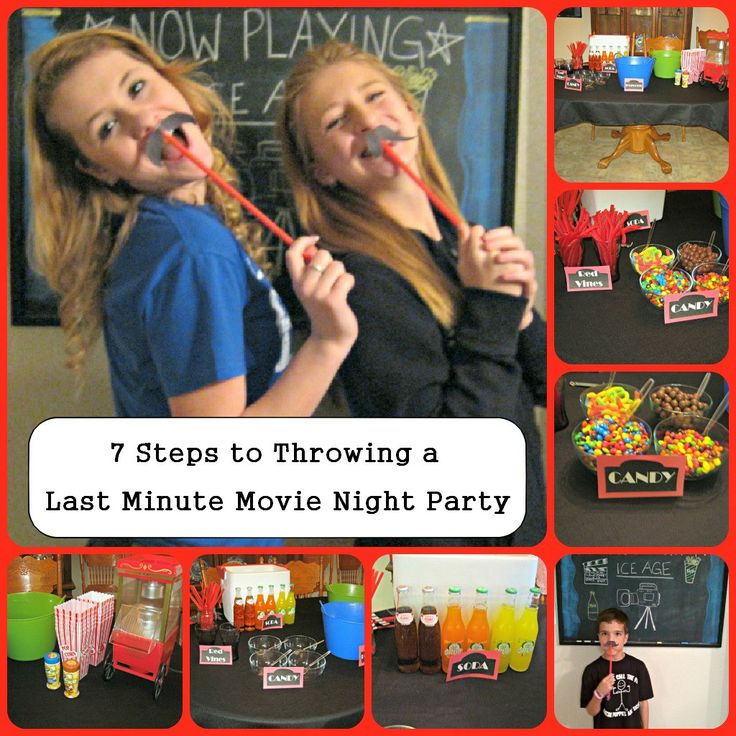 Here are 7 Steps to Throwing a Last Minute Movie Night Party!
Planning a Movie Night Party
1. Choose the Movie – When you're inviting kids over for a movie, it's best to know your crowd and what they're allowed to watch. We decided to play it safe and go for a newly released animated movie. We chose 'Ice Age: Continental Drift'. It ended up being a good choice!
2.  Choose the Time – It's a good idea to set a time the party will start and end. We went with 6:30 to 10:00. Why 6:30? Well, teens are usually late, which meant the party and movie would most likely start somewhere between 7 and 7:30. We decided to leave some time on the end for them to hang out. They ended up playing Mafia and some other mystery game.
3. Decide on the Food – What goes hand in hand with a good movie night party? Popcorn, candy and soda. We had an air popper, as well as microwave popcorn and some flavorings to go on top. We also did bowls of candy, red vines and soda. You could also do nachos or hot dogs, basically anything that is served at the movie theater. Since we were on a tight budget and time line, we went with the easiest food possible.
4. Send Out the Invites – Since it was last minute and it was teens, I sent out a few text invites and told my kids to do the same. A few other good ways to get the invitation out is through Facebook or actually picking up the phone and calling. Crazy, I know. I like texting because I could send out a massive invite all at once.
Be sure to include what movie you're seeing, your address, the time for the party and if you want them to bring anything. Since we were having popcorn and candy, we made it a BYOB party. (Bring Your Own Bowl) 🙂
5. Set up the Table – This is the fun part. I didn't go all out because like I said, this was last minute. I used what I had as far as containers went. Some large plastic tubs for the popcorn, glass bowls for the candy, Coca-Cola glasses for the Red Vines, ice chest for the sodas and we were good to go.
I wanted to add something a little fun, so I found some printable labels and attached them to red construction paper. (Actually my daughter and her friend did. Thank you girls!)
6. Arrange the Seating – When it comes to a movie night party, all you need are some large pillows and blankets. Who wants to sit in a chair to watch a movie? No one. Our living room furniture, plus some blankets and pillows were all we needed.
7. Decide on Any Other Activities – If you want some mementos for the party, you could set up a photo booth. We have a chalkboard in our dining room, so we just used that as a back drop. I had my son and his friend decorate it. (Thanks guys!) We then printed out mustaches and attached them to straws and a clacker. (You know, the thing you snap when you yell 'Action!') You could also grab this cute set of Movie Night Photo Booth Props if you're planning just a little bit ahead.
—
Overall the night was a success. It only costs us around $30 and a couple of hours for prep. Not bad for a night of fun.
This party wasn't extravagant or stressful to put together. It cost very little and we helped host a fun night for our kids and their friends. It's not about what the party looks like (although, I obviously love that part!), but it's about getting together and having some fun.