Sometimes the hardest people to shop for are the ones we're closest to and love the most! If you're struggling to come up with a great gift idea for the man in your life – whether it's your husband, boyfriend, grown son or a brother – you're in the right place! Our Gift Guide for Him has several amazing ideas the guy in your life is bound to love! For his next birthday, Christmas, Father's Day or just because, get him something special and surprising! We've got it all, right here…
10 Fabulous Gift Ideas for Him
I don't know about you, but whenever I have to shop for a special gift for my husband my mind goes blank. It doesn't matter if it's his birthday, Christmas or Father's Day, it's like I've never met him before and can't think of a single thing he'd actually like. I usually end up coming up with a winner, but it's always helpful to prime the pump of ideas with a gift guide. That's why I put together this list for you (okay, for us) – to make you look fabulous and brilliant the next time you give him a gift! There's a little something for every guy on your list here and something for every occasion! Let the ideas flow…
I fell in love when I saw this large rustic wooden ice chest featuring a rustic mountain and cast iron bottle opener and just know he will too! If your guy has a manly space in the backyard and loves to have his guys over to hang out, this is the perfect gift for him! The insulated, galvanized steel liner will keep his drinks ice cold! Talk about party! They also have a really cool American Flag version.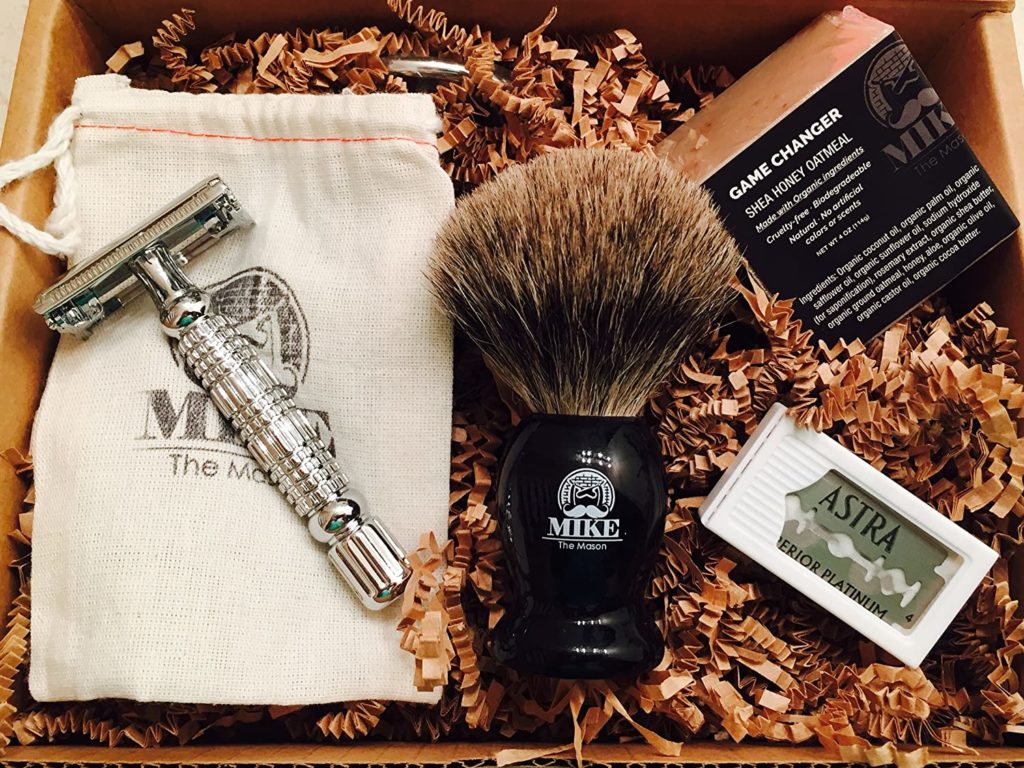 I think some of the best gifts are things you really like, but probably wouldn't buy for yourself. This Perfect Shave Kit falls into that category for him. Inside the kit he'll find the Hawk Razor, made with premium imported aluminum metal, a comfortable grip handle and a closed comb design which will give him the perfect shave every time. This shave kit also includes a special razor stand, 5 Premium ASTRA Platinum razor blades, Pure Badger Hair Brush and 1 Organic Honey Oatmeal Shave Bar.
Okay, you may be thinking this is a totally weird gift idea, but my husband has actually talked multiple times about wanting something just like this. Maybe not the most romantic gift idea if you're shopping for an anniversary gift, but it's something any guy after the lushest, greenest lawn on the block will appreciate! With these totally awesome lawn aerating shoes, he'll be able to effectively loosen soil particles so his lawn enjoys an adequate supply of nutrients, water and air (try to contain your excitement ladies!).
If your man likes to golf and you have a pool (or even a pond), how about an Aqua Golf Game?! This floating green island comes with 12 practice balls, a chipping mat, 2 flags and cups and promises to be tons of fun all season long!
My husband and brother-in-law are big into bourbon and whiskey as of late. They're always trying different brands, mixes and ice cubes (really). Currently, their favorite ice cubes are the giant square ones. I love this silicon ice cube set because he can try both the giant squares and giant spheres for his favorite cocktail, whiskey or bourbon. The ice cube trays are made from BPA-free silicone and because the mold isn't rigid, they're easy to release. He'll love them because large ice cubes melt slower and won't water down his drink.
If your man is more of a beer drinker, he'll love this modern, personalized stainless steel beer growler in matte black from Sofia's Findings. He can transport 64 ounces of his favorite beer from brewery to home or from home to a picnic or party. Made of durable stainless steel in a traditional growler design with a swing-top lid for an airtight seal, it's classic and cool and will make a great gift for any occasion.

Sentimental and sweet, celebrate fatherhood with this darling handmade, custom watercolor! He'll love a portrait to remind him of his favorite memories with the ones he loves the most. This watercolor can be completely customized to include a father and child of any age, different clothing options, hair options, you name it! Send in a picture along with any special requests and get a custom art piece he'll treasure for years.
The Carved Qi Wireless Charging Pad is the perfect complement for his wireless charging enabled device. He can plug the wireless charger into the wall or any powered USB port, then put his phone right on top of it. The slim, circular design makes it easy to hit the charger every time. You can also have it engraved with his name to really personalize the gift. Perfect for his desk or nightstand, he can just pull his phone out of his pocket and set it right down to charge.
Turn your favorite memories of him into a piece of unique wood wall art you can display year round. Your favorite photo is imprinted onto a piece of Grade A Baltic Birch plywood (3/4 inch thick) and finished with a layer of coating, which gives each board a smooth, premium, semi-glossy look. He'll love the unique look of this custom piece of art.
Treat his belly to a box packed full of BBQ goodies! Your grill master will love trying out the goodies in the box which include a Lexington, NC rub, a hickory burger rub, beef and steak rub, a Louisiana rub and seasoning, a Kansas City, MO rub, applewood smoked salt and a 2″ grill top thermometer.
—
I hope you found the perfect gift for the man in your life in this gift guide! Be sure to Pin this post for later shopping and gift giving – these gift ideas are good all year long for an occasion!